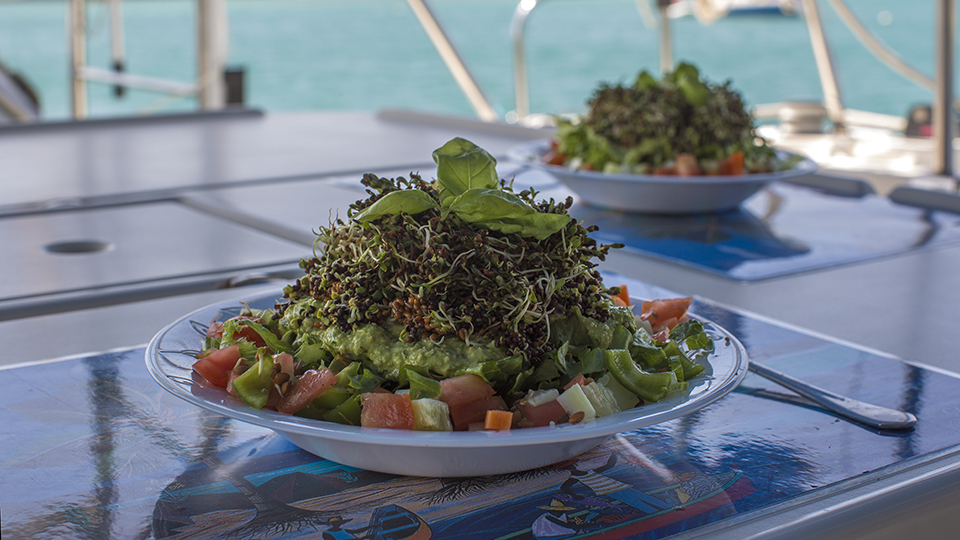 Fresh salad with sprouts

for 2 people

2 small tomatoes
1 small piece of cucumber
1 thick slice of Christophine
1 carrot
1/3 avocado
3 spring onions
1 handful of parsley
1 handful of celery green
fresh thyme
a few basil leaves
1 large garlic clove
| 3 salad leaves
1 tablespoon of sunflower seeds soaked overnight in water
1 cup of lentil germ (the easiest to sprout and deliciously crunchy)
Broccoli sprouts (also pretty easy to draw, gives big fat green sprouts!)
alfalfa Sprouts
linseed oil
Seasoned Salt
1/2 lemon

Finely chop the vegetables, spread with the lentil sprouts on 2 plates, drizzle with lemon, salt and mix well.
Add spring onions, garlic, celery, parsley, thyme, sunflower seeds, flaxseed oil and a little water to a blender.
Finely cut the lettuce leaves and spread over the vegetables.
Give the herb mass over it, generously garnish with sprouts and top the basil.

The whole thing can be varied every day.
Very delicious are hemp seeds (ground in the coffee grinder or peeled) instead of sunflower seeds. Or Tahin.
The herbs can also vary. Usually I buy them fresh from the market or take them fresh from our herb garden on board.
Zucchini, pumpkin, sweet potatoes, peppers, white cabbage or red cabbage or a cup of quinoa from the previous day …. Variety is enough!